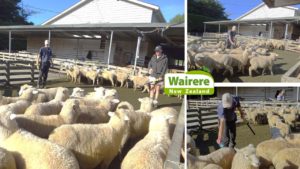 Wairere has over 20,000 animals recorded on SIL (Sheep Improvement Limited). Performance is ranked accordingly to a number of goal traits which are chosen based on our clients requirements.
However, good figures not always translate into a good ram. It is of equal importance to breed animals that are structurally sound. This is a trait which is not available on SIL and, hence, it has neither economic nor estimated breeding values. And yet, it is one of the top 5 sought-after traits ranked by our clients.
Although there are several non-genetic factors impacting on traits such as feet conformation, there is still scope to improve through selection.
Wairere has been selecting heavily on structural soundness for decades. All animals are assessed for a number of visual traits several times during the year. The recently use of animal electronic identification and related devices have enabled us to invest even more time and effort on our mission in finding the 'perfect sheep'.
Wairere is committed to delivering a world class genetics package that makes your sheep farming easier and more profitable.
Get in touch with our team on 0800 924 7373 or learn more about our breeding strategy here.