Social licence to farm? Dirty dairying?
Why did NZ get a credit upgrade in March? Because dairy exports rose $4.5 billion per year in 2019 and 2020, with more to come. Tourism, "our biggest export industry", contributed nothing to the upgrade or NZ's standard of living over the past fourteen months. Politicians support AirNZ with all its polluting GHG emissions, while blaming animals that evolved ninety million years ago for manmade climate change! It's a comedy show, but farmers have been cast as the villains. Lobby groups and politicians have cleverly marginalised our sector. How do we put our case?
Should we suggest that every person in NZ carry a social licence, with a running total of carbon used?
Your property rights are being whittled away. The consequences:
GHG emissions. The price of hill country farm land has risen steeply because of the subsidies available for trees.
Water quality: one rule for cities, one rule for farmers.
Urban and lifestyle blocks cover almost the same area as dairying. Is there no long term thinking about food security, energy security?
Pastoral grazing land covers only 37% of NZ, and is shrinking fast.
Biodiversity has increased across most hill country farms in recent years, with many QE2 covenants created, and marginal land reverting to bush.
Government has been obstructive to the temporary employment of overseas staff in dairying, cropping, and horticulture.
Nuffield normally doesn't comment on politics, but:
Over the past twenty years inflation in the non-tradeables sector has been twice that of inflation in the tradeables sector.  Exporters are continually gouged by domestic inflation.
Domestic inflation has created a PONZI Scheme in the price of property, both rural and urban. In 1970 an average salary was $5,000, and an average house was $8,600. Today a median salary is $55,000, and an average house is $913,000. The official inflation figure is a mockery of the real cost of living and doing business.
The response from government was to create the Climate Change Commission. Has the Commission come up with any solutions to reduce fossil fuel consumption? The ETS is causing only one change to behaviour… planting trees to take advantage of government guaranteed carbon credits.
A future generation will write COMEDY shows about what's happening in NZ right now…how we were programmed to believe that ruminant animals are to blame for GHG emissions, that returning the country to native bush and pine trees will save the world, and that growing food can be done with no effects on soils and water.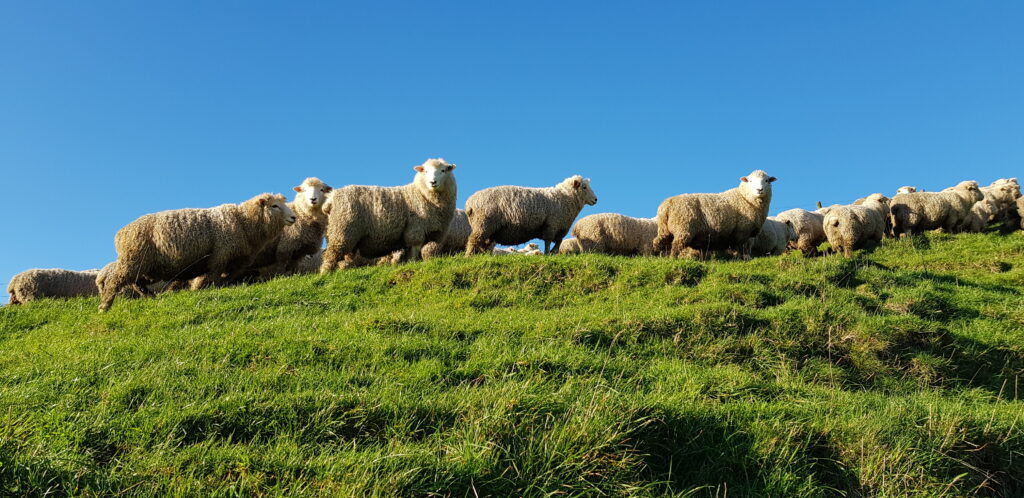 Wairere ram hoggets in July 2020. Photo by Emma Pettigrew
Proven Predictable Profitable Wairere sheep genetics
My father, John Daniell, did a Nuffield in 1962. At the age of 37 it was his first time out of New Zealand. That trip prompted a change to recording sheep productivity on the Wairere hills rather than on the Akoura stud, run on the flat land around Masterton. Nuffield also led to John having twelve years on the Meat Board. Another initiative was flying on DAP in 1969, and using DAP over the whole farm in 1974, a practice which has continued ever since.
When I did my Nuffield thirty years ago, I was told that a lamb carcass was too small to be profitable. NZ frozen lamb had tracked the price of pork for decades. Wool prices were in sharp decline. Tim Tatham, then a director of Affco, was on a mission to achieve $30 at the farm gate for a 16kg lamb. The national lambing percentage was around 100, and average lamb weight was around 14kgs.
Where are we at now? National lambing is 130% and average lamb weight is 19kgs.
What do we ram breeders target now?
Many commercial farmers have reached a lambing percentage which fits with feed supply.
Faster growth of lambs continues to be a target.
Is it worth breeding for higher IMF (intramuscular fat) for improved eating quality?
Do we wait for wool price to make a comeback?
Commercial farmers want minimal workload. We need to breed sheep that never get lame, and never grow dags.
Politics is against sheep farming in New Zealand. Meantime, Mongolians are proud that their sheep population has reached 30 million for the first time. The productivity of the Australian flock is improving rapidly. Within a few years Australia will be exporting more lamb than New Zealand, despite 40-45% being consumed by the local market.
What are some characteristics of the Wairere flock?
All ewe hoggets have been mated since 1966, and lambed without shepherding.
Scale: around 10,000 ewes and hoggets are recorded under SIL, around the same number of females as 23 Angus breeders record, who are about to join the Australian Angus Society.
Commercial approach: stocking rate is among the highest in the district. Sheep are run in large mobs on second class hill country, which sorts out the thrifty from the non-doers.
Culling pressure: there are an additional 9,000 ewes in multiplier flocks on top of the 10,000 fully recorded. This means that only one in five rams born is sold for breeding.
Wairere has Romney, FE resilient, maternal composite, terminal, and Halfbred rams for sale.
Our international flocks in Australia, the UK, and South America keep us up to date with market and production news from our key competitors.
Internal parasites: no mixed age ewes have been drenched since 2005.
Almost ditto for two tooths. Last drench for the two tooths that you'll see today was at ten months old, well before they lambed as hoggets last spring.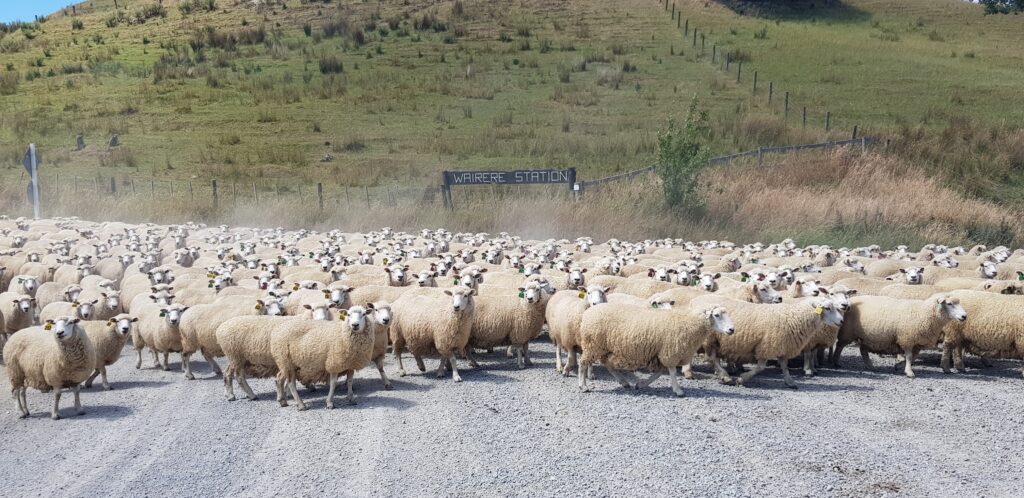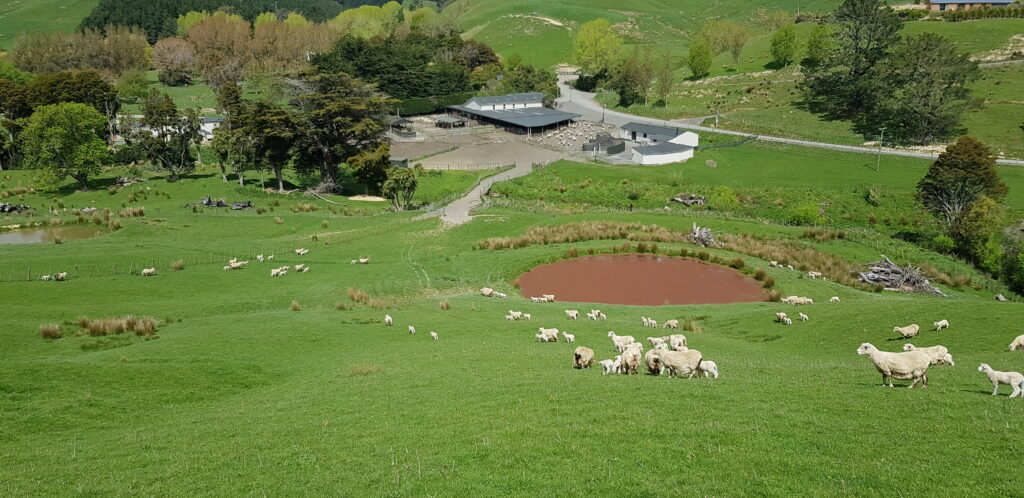 Wairere ewes on the road by the Wairere sign. Photo by Emma Pettigrew
Wairere ewes and lambs coming in for docking. Photo by Emma Pettigrew
Searching for the future of the North Island hills
To see the article written by Keith Woodford about his experience on the Nuffield tour, click the link below.